Navigation
Random Quotes
Buckminster Fuller(1895-1983)
When I am working on a problem I never think about beauty. I only think about how to solve the problem. But when I have finished, if the solution is not beautiful, I know it is wrong.
Latest Articles
Search
Six Principles of Magic
1. Every magician has a beautiful vision for the world.
2. Every system of magic is a single artists tool, used to reshape reality.
3. If you believe, it shall exist.
4. When you call, they will answer.
5. Success and failure, is one and the same: ignorance and depression is the enemy.
6. Be like all equally, and you shall unite; refuse and separate.

by Dalamar
Mythology of THOTH
The Book of THOTH - The complete guide to the Tarot, Magick and the Occult: Downloads
Sort Downloads


[ Title
] - [ Date
] - [ Rating
] - [ Popularity
]

Downloads Currently Sorted by: Rating (Highest Scores to Lowest Scores)
Woo Woo Tarot
One of the latest editions of Mystic Eye Woo-Woo Tarot Software. This program uses the full Celtic Cross spread. Complete with card meanings

Version: nk
Compatibility: Windows
Filesize: 0 bytes
Added on: Sep-01-2005
Downloads: 2774

[ Home ] - [ Rate ] - [ Broken ] - [ Details ]
EgyptMage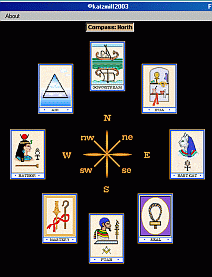 Excellent (Freeware) Egyptian Tarot Software. Fully customisable Position Meanings and Card Meanings. Options include using full deck or reduced deck. Spare cards can be dealt with all 12 Spreads for clarifying a reading; Deal all cards upright for divination readings via postion meanings (or not, as you please), plus more... Original deck with Egyptian deities and heiroglyphs (Ideograms). Printout of position & card meanings

Version: 1.0
Compatibility: Windows 95 and higher
Filesize: 0 bytes
Added on: Sep-01-2005
Downloads: 3857

[ Home ] - [ Rate ] - [ Broken ] - [ Details ]
Gothic Tarot
Mystic Eye Gothic Tarot Software. Five card 'Far Past''Past', 'Present', 'Future' and 'Far Future' spread. Complete with card meanings.

Version: nk
Compatibility: Windows
Filesize: 0 bytes
Added on: Sep-01-2005
Downloads: 2223

[ Home ] - [ Rate ] - [ Broken ] - [ Details ]
Astrology Reports
Survey
Daily Horoscope
Biorhythms
Crowley Quotes
"It seemed incredible that I should ever have fancied that I or anything else had any bearing on each other.All things were alike as shadows sweeping across the still surface of a lake--their images had no meaning for the water, no power to stir its silence."

Aleister Crowley